23 Nov 2021
Charles University has provided data on APC and BPC expenditures for the 2020 period.
The Charles University Library collects data on Open Access publishing fees paid for by faculties budgets at Charles University and kindly provides this data to OpenAPC.
Contact Person is Tereza Simandlová.
Cost data
The new data set covers publication fees for 359 articles published in 2020. Total expenditure amounts to 675,196€ and the average fee is 1,881€.
In addition, Charles University also provided two BPC records for 2020 which are not listed here.
|   | Articles | Fees paid in EURO | Mean Fee paid |
| --- | --- | --- | --- |
| MDPI AG | 141 | 231128 | 1639 |
| Springer Nature | 50 | 106681 | 2134 |
| Frontiers Media SA | 31 | 81234 | 2620 |
| Elsevier BV | 20 | 51711 | 2586 |
| Public Library of Science (PLoS) | 16 | 26288 | 1643 |
| Academia Scientiarum Bohemoslovaca | 13 | 9239 | 711 |
| Oxford University Press (OUP) | 12 | 44961 | 3747 |
| Hindawi Publishing Corporation | 8 | 17454 | 2182 |
| Wiley-Blackwell | 7 | 14446 | 2064 |
| Informa UK Limited | 6 | 11640 | 1940 |
| Anticancer Research USA Inc. | 4 | 2952 | 738 |
| Copernicus GmbH | 4 | 9567 | 2392 |
| SAGE Publications | 4 | 8152 | 2038 |
| Charles University, First Faculty of Medicine | 3 | 1241 | 414 |
| Maghira & Maas Publications | 3 | 2524 | 841 |
| Pensoft Publishers | 3 | 1833 | 611 |
| Spandidos Publications | 3 | 3583 | 1194 |
| Bentham Science Publishers Ltd. | 2 | 3115 | 1558 |
| Cambridge University Press (CUP) | 2 | 5156 | 2578 |
| Czech Botanical Society | 2 | 1210 | 605 |
| IOS Press | 2 | 3779 | 1889 |
| Ovid Technologies (Wolters Kluwer Health) | 2 | 2997 | 1499 |
| Palacky University Olomouc | 2 | 734 | 367 |
| Royal Society of Chemistry (RSC) | 2 | 1715 | 858 |
| Akademiai Kiado Zrt. | 1 | 1035 | 1035 |
| American Chemical Society (ACS) | 1 | 1479 | 1479 |
| American Diabetes Association | 1 | 2806 | 2806 |
| American Society for Microbiology | 1 | 1993 | 1993 |
| American Society of Hematology | 1 | 2868 | 2868 |
| Asian Exercise & Sport Science Association | 1 | 478 | 478 |
| Association of Basic Medical Sciences of FBIH | 1 | 230 | 230 |
| Czech Geographical Society | 1 | 75 | 75 |
| E.U. European Publishing | 1 | 2353 | 2353 |
| EMBO | 1 | 5699 | 5699 |
| IEEE | 1 | 1810 | 1810 |
| IOP Publishing | 1 | 1966 | 1966 |
| Medical Science International | 1 | 2231 | 2231 |
| Royal College of Psychiatrists | 1 | 2708 | 2708 |
| The Royal Society | 1 | 2469 | 2469 |
| University of Ss. Cyril and Methodius | 1 | 422 | 422 |
| Walter de Gruyter GmbH | 1 | 1237 | 1237 |
Overview
With the recent contribution included, the overall APC data for Charles University now looks as follows:
Fees paid per publisher (in EURO)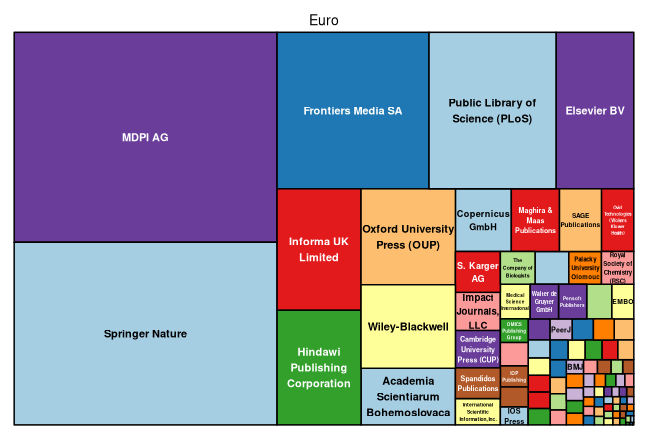 Average costs per year (in EURO)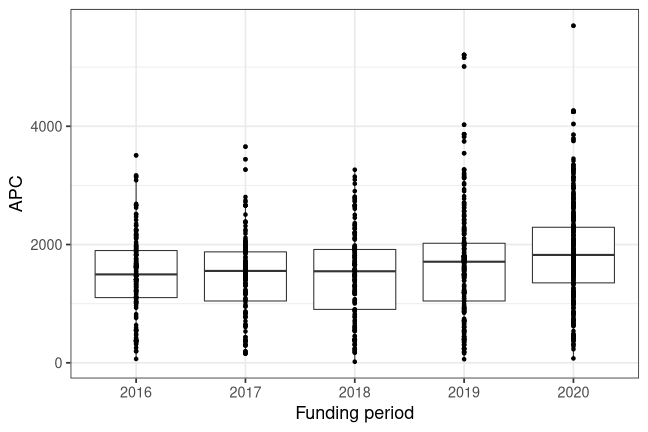 Average costs per publisher (in EURO)