16 May 2022
The National Library of Sweden collects data on APC expenditures from universities and other research institutions in Sweden.
APC expenditures for 2 different institutions have now been made available to OpenAPC.
Contact person for the National Library is Camilla Lindelöw.
Cost data
The new data set provided by the National Library covers publication fees for 200 articles. Total expenditure amounts to 405 184€ and the average fee is 2 026€.
The data originates from the following institutions:
Karolinska Institutet
University of Skövde
Overview
A detailed analysis of the contributed data sets provides the following overview:
Breakdown by publisher
|   | Articles | Fees paid in EURO | Mean Fee paid |
| --- | --- | --- | --- |
| MDPI AG | 59 | 94511 | 1602 |
| Public Library of Science (PLoS) | 19 | 37462 | 1972 |
| Ovid Technologies (Wolters Kluwer Health) | 15 | 39464 | 2631 |
| Frontiers Media SA | 12 | 27043 | 2254 |
| Oxford University Press (OUP) | 12 | 23800 | 1983 |
| Springer Nature | 9 | 31464 | 3496 |
| Impact Journals, LLC | 5 | 16401 | 3280 |
| Informa UK Limited | 5 | 10534 | 2107 |
| American Association for Cancer Research (AACR) | 4 | 5136 | 1284 |
| American Society for Microbiology | 4 | 6216 | 1554 |
| Elsevier BV | 4 | 9606 | 2402 |
| Wiley-Blackwell | 4 | 9266 | 2316 |
| American Society for Clinical Investigation | 3 | 10228 | 3409 |
| IEEE | 3 | 4887 | 1629 |
| Proceedings of the National Academy of Sciences | 3 | 8046 | 2682 |
| Scandinavian Journal of Work, Environment and Health | 3 | 3475 | 1158 |
| Acta Dermato-Venereologica | 2 | 3189 | 1594 |
| American Medical Association (AMA) | 2 | 6922 | 3461 |
| BMJ | 2 | 5063 | 2531 |
| Det Kgl. Bibliotek/Royal Danish Library | 2 | 701 | 350 |
| eLife Sciences Publications, Ltd | 2 | 4676 | 2338 |
| European Respiratory Society (ERS) | 2 | 2548 | 1274 |
| Medical Journals Sweden AB | 2 | 1499 | 749 |
| Society for Neuroscience | 2 | 7061 | 3531 |
| Spandidos Publications | 2 | 1969 | 985 |
| American Society of Tropical Medicine and Hygiene | 1 | 2103 | 2103 |
| American Speech Language Hearing Association | 1 | 1709 | 1709 |
| Brill | 1 | 382 | 382 |
| Bristol University Press | 1 | 1771 | 1771 |
| British Editorial Society of Bone & Joint Surgery | 1 | 1709 | 1709 |
| Cogitatio | 1 | 1153 | 1153 |
| Ferrata Storti Foundation (Haematologica) | 1 | 404 | 404 |
| Hindawi Publishing Corporation | 1 | 770 | 770 |
| IGI Global | 1 | 430 | 430 |
| International Global Health Society | 1 | 2311 | 2311 |
| International Journal of Medical Education | 1 | 1032 | 1032 |
| JMIR Publications Inc. | 1 | 1652 | 1652 |
| Life Science Alliance, LLC | 1 | 2457 | 2457 |
| Mary Ann Liebert Inc | 1 | 2754 | 2754 |
| MyJove Corporation | 1 | 2155 | 2155 |
| Rockefeller University Press | 1 | 4770 | 4770 |
| S. Karger AG | 1 | 2895 | 2895 |
| The Journal of Rheumatology | 1 | 3561 | 3561 |
Fees paid per publisher (in EURO)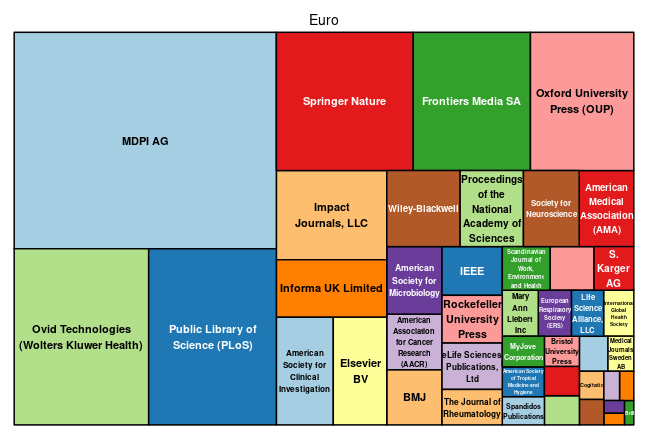 Average costs per publisher (in EURO)