University of Zurich provides 2012 to 2015 APC data
16 Oct 2020
The University of Zurich has provided data on APC expenditures from 2012 to 2015.
The Zurich University Main Library collects data on institutional APC expenditures and kindly provides them to OpenAPC.
Contact Person is Daniela Jost.
Cost data
The new data covers publication fees for 31 articles. Total expenditure amounts to 34,453€ and the average fee is 1,111€.
The following table shows the payments Zurich University Main Library has made to publishers from 2012 to 2015.
|   | Articles | Fees paid in EURO | Mean Fee paid |
| --- | --- | --- | --- |
| Frontiers Media SA | 16 | 16931 | 1058 |
| Public Library of Science (PLoS) | 6 | 9024 | 1504 |
| Informa UK Limited | 2 | 1782 | 891 |
| Springer Science + Business Media | 2 | 2219 | 1109 |
| Amsterdam University Press | 1 | 400 | 400 |
| Berlin Regener Publishing House | 1 | 348 | 348 |
| Eurasian Society of Educational Research | 1 | 59 | 59 |
| MIS Quarterly | 1 | 2491 | 2491 |
| Oxford University Press (OUP) | 1 | 1200 | 1200 |
Overview
With the recent contribution included, the overall APC data for the University of Zurich now looks as follows:
Fees paid per publisher (in EURO)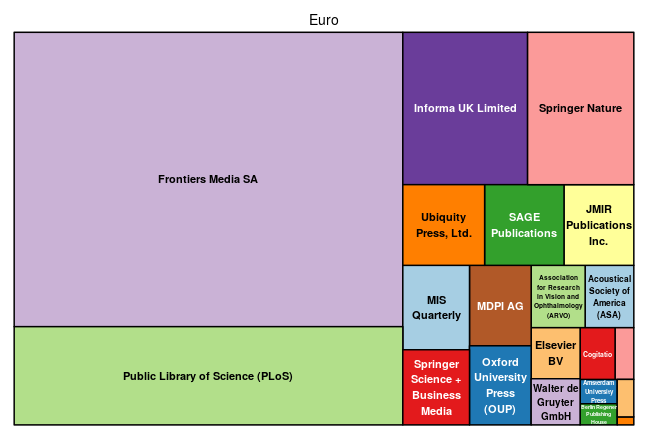 Average costs per year (in EURO)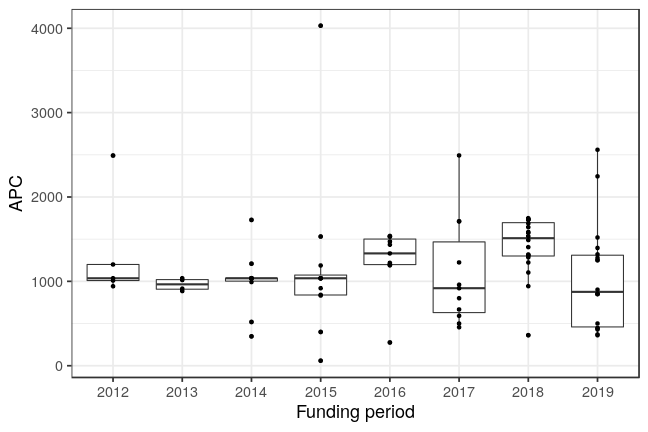 Average costs per publisher (in EURO)