Technical University of Ostrava reports its 2020 APC expenditures
06 Jun 2021
The VSB - Technical University of Ostrava has updated its APC expenditures, the latest contribution provides data for the 2020 period.
The VSB Central Library collects data on institutional APCs expenditures and kindly provides that data to OpenAPC.
Contact Person is Pavla Rygelová.
Cost data
The new data set covers publication fees for 100 articles, total expenditure amounts to 130,326€ and the average fee is 1,303€.
The following table provides an overview:
|   | Articles | Fees paid in EURO | Mean Fee paid |
| --- | --- | --- | --- |
| MDPI AG | 82 | 125255 | 1528 |
| MM Publishing, s.r.o. | 20 | 8387 | 419 |
| Elsevier BV | 11 | 24305 | 2210 |
| Walter de Gruyter GmbH | 8 | 3657 | 457 |
| Jan Evangelista Purkyne University in Usti nad Labem | 7 | 1003 | 143 |
| Wydawnictwo Naukowe Gabriel Borowski (WNGB) | 6 | 1331 | 222 |
| Springer Nature | 5 | 8958 | 1792 |
| Optical Society of America (OSA) | 4 | 7667 | 1917 |
| ASTES Journal | 3 | 1399 | 466 |
| Institute of Electrical & Electronics Engineers (IEEE) | 3 | 6013 | 2004 |
| TU Kosice | 3 | 605 | 202 |
| Hindawi Publishing Corporation | 2 | 4470 | 2235 |
| Wiley-Blackwell | 2 | 5820 | 2910 |
| Asociatia Geograhia Technica | 1 | 174 | 174 |
| Copernicus GmbH | 1 | 1677 | 1677 |
| Desalination Publications | 1 | 145 | 145 |
| EDP Sciences | 1 | 101 | 101 |
| Estonian Academy Publishers | 1 | 605 | 605 |
| Frontiers Media SA | 1 | 1514 | 1514 |
| Inderscience Publishers | 1 | 1108 | 1108 |
| Informa UK Limited | 1 | 908 | 908 |
| Ital Publication | 1 | 381 | 381 |
| Longdom Group | 1 | 1838 | 1838 |
| Mechanical Engineering Faculty in Slavonski Brod | 1 | 488 | 488 |
| Nofer Institute of Occupational Medicine | 1 | 97 | 97 |
| Oxford University Press (OUP) | 1 | 1716 | 1716 |
| Polish Academy of Sciences | 1 | 302 | 302 |
| Polskie Towarzystwo Przeróbki Kopalin | 1 | 468 | 468 |
| Public Library of Science (PLoS) | 1 | 1386 | 1386 |
| SAGE Publications | 1 | 888 | 888 |
| Trans Tech Publications, Ltd. | 1 | 605 | 605 |
| Versita, Warsaw | 1 | 302 | 302 |
| World Scientific Pub Co Pte Lt | 1 | 2250 | 2250 |
| Wydawnictwo SIGMA-NOT, sp. z.o.o. | 1 | 363 | 363 |
Overview
With the recent contribution included, the overall APC data for Ostrava now looks as follows:
Fees paid per publisher (in EURO)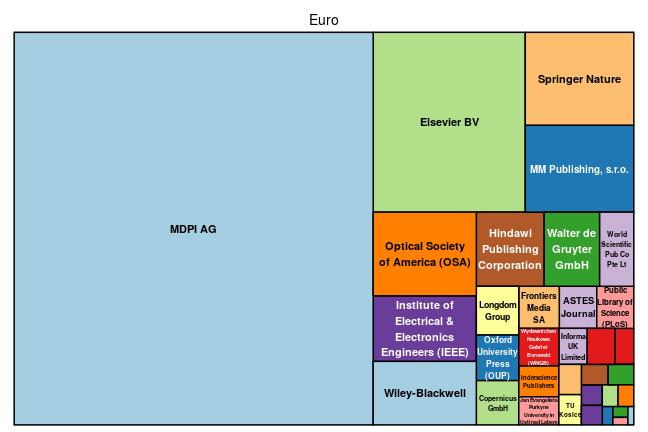 Average costs per publisher (in EURO)