University of Frankfurt reports its 2020 Springer Nature DEAL data
08 Jun 2021
The Goethe University Frankfurt has updated its APC expenditures, the latest contribution provides data on Gold and hybrid OA articles published under the Springer Nature DEAL contract in 2020.
The University Library Johann Christian Senckenberg is in charge of the University's Open Access Publishing Fund, which is supported under the DFG's Open Access Publishing Programme.
Contact Person is Roland Wagner.
Cost data
The new data set covers publication fees for 47 Gold OA articles, total expenditure amounts to 94 106€ and the average fee is 2 002€.
The following table provides an overview. Please note that articles published in hybrid Springer Nature journals under the DEAL agreement are not included in this list, as they are aggregated in OpenAPC's transformative agreements data set.
|   | Articles | Fees paid in EURO | Mean Fee paid |
| --- | --- | --- | --- |
| Scientific Reports | 23 | 39793 | 1730 |
| Journal of Translational Medicine | 3 | 6932 | 2311 |
| Nature Communications | 3 | 10092 | 3364 |
| BMC Musculoskeletal Disorders | 2 | 3786 | 1893 |
| Journal of Physiological Anthropology | 2 | 3007 | 1503 |
| Biotechnology for Biofuels | 1 | 2125 | 2125 |
| BMC Medical Education | 1 | 1661 | 1661 |
| BMC Medical Genetics | 1 | 1477 | 1477 |
| BMC Medical Informatics and Decision Making | 1 | 1847 | 1847 |
| BMC Pharmacology and Toxicology | 1 | 1847 | 1847 |
| Communications Biology | 1 | 2953 | 2953 |
| Communications Chemistry | 1 | 2953 | 2953 |
| Critical Care | 1 | 2487 | 2487 |
| Environmental Sciences Europe | 1 | 2014 | 2014 |
| Gut Pathogens | 1 | 2014 | 2014 |
| Journal of Occupational Medicine and Toxicology | 1 | 1893 | 1893 |
| Orphanet Journal of Rare Diseases | 1 | 2014 | 2014 |
| Parasites & Vectors | 1 | 1847 | 1847 |
| Translational Psychiatry | 1 | 3364 | 3364 |
Overview
With the recent contribution included, the overall APC data for Frankfurt now looks as follows:
Fees paid per publisher (in EURO)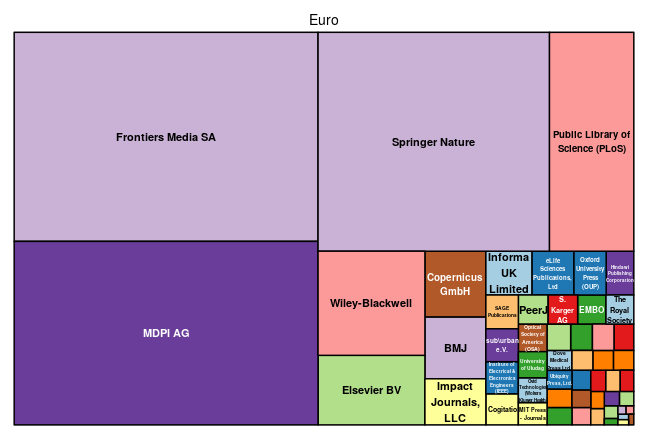 Average costs per year (in EURO)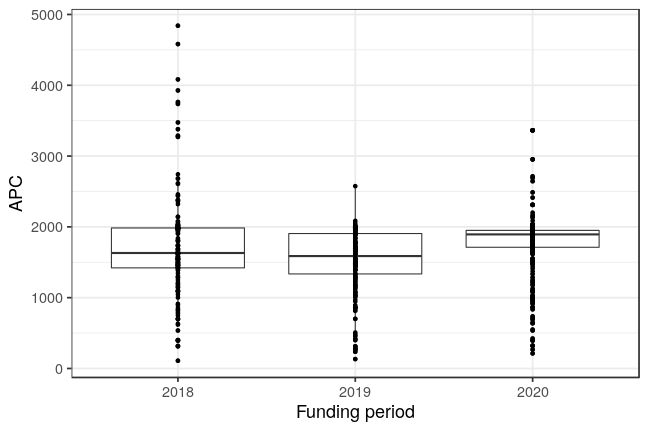 Average costs per publisher (in EURO)