Qatar National Library reports additional 2021 APC expenditures
18 Nov 2021
The Qatar National Library (مكتبة قطر الوطنية) has updated its cost data, the recent contribution provides more APC expenditures for the 2021 period.
Contact Person for the QNL is Sarah Abusaada.
Cost data
The new data set covers publication fees for 358 articles, total expenditure amounts to 698,580€ and the average fee is 1,951€.
A detailed analysis of the contributed data provides the following overview:
Publishers
|   | Articles | Fees paid in EURO | Mean Fee paid |
| --- | --- | --- | --- |
| Elsevier BV | 152 | 296626 | 1951 |
| Wiley-Blackwell | 67 | 133636 | 1995 |
| Informa UK Limited | 42 | 96681 | 2302 |
| Springer Nature | 30 | 67620 | 2254 |
| Institute of Electrical & Electronics Engineers (IEEE) | 26 | 40263 | 1549 |
| Frontiers Media SA | 13 | 23134 | 1780 |
| Ovid Technologies (Wolters Kluwer Health) | 7 | 13670 | 1953 |
| Public Library of Science (PLoS) | 5 | 7437 | 1487 |
| Medknow | 3 | 2492 | 831 |
| S. Karger AG | 3 | 2945 | 982 |
| BMJ | 2 | 3282 | 1641 |
| American Geophysical Union (AGU) | 1 | 1203 | 1203 |
| Hamad bin Khalifa University Press (HBKU Press) | 1 | 613 | 613 |
| Hindawi Publishing Corporation | 1 | 1661 | 1661 |
| IMR Press | 1 | 743 | 743 |
| Institution of Engineering and Technology (IET) | 1 | 2250 | 2250 |
| Oxford University Press (OUP) | 1 | 1890 | 1890 |
| SAGE Publications | 1 | 1435 | 1435 |
| Walter de Gruyter GmbH | 1 | 1000 | 1000 |
Fees paid per publisher (in EURO)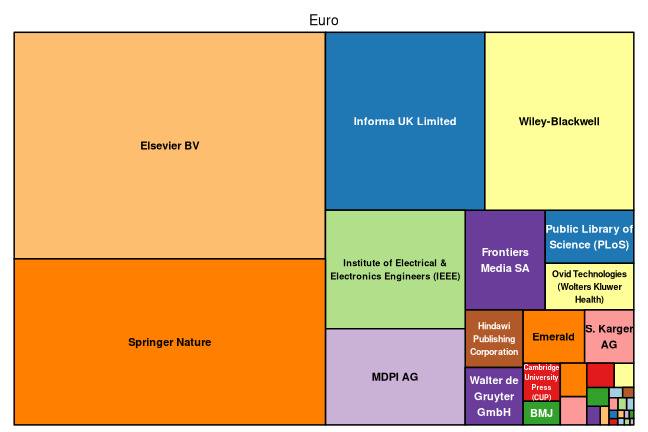 Average costs per year (in EURO)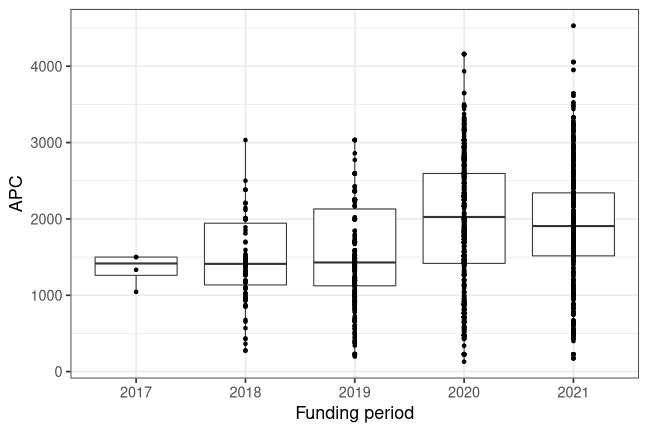 Average costs per publisher (in EURO)