Couperin.org provides additional APC data for 9 institutions
23 Jun 2022
The Couperin consortium collects data on APC expenditures from universities and other research institutions in France.
APC expenditures for 9 different institutions have now been made available to OpenAPC, with one institution being included for the first time.
Contact Persons for Couperin are Valerie Larroque and Sandrine Malotaux.
Cost data
The new data set provided by Couperin covers publication fees for 607 articles. Total expenditure amounts to 996,855€ and the average fee is 1,642€. The contribution also contained BPC data for one OA monograph which is not listed here.
The data originates from the following institutions:
Institut Laue-Langevin
Institut national polytechnique de Toulouse
Institut de recherche pour le développement (IRD)
IRSN
Université du Havre
Université de Lille
Université Technologique de Compiègne
Université Toulouse III - Paul Sabatier
EURECOM (new)
Overview
A detailed analysis of the contributed data sets provides the following overview:
Breakdown by publisher
|   | Articles | Fees paid in EURO | Mean Fee paid |
| --- | --- | --- | --- |
| MDPI AG | 160 | 213952 | 1337 |
| Springer Nature | 127 | 243498 | 1917 |
| Frontiers Media SA | 62 | 129737 | 2093 |
| Elsevier BV | 54 | 79504 | 1472 |
| Copernicus GmbH | 45 | 69364 | 1541 |
| Public Library of Science (PLoS) | 41 | 64799 | 1580 |
| Wiley-Blackwell | 22 | 46673 | 2122 |
| Oxford University Press (OUP) | 10 | 20128 | 2013 |
| Pensoft Publishers | 7 | 8060 | 1151 |
| AAAS | 6 | 18921 | 3154 |
| American Society for Microbiology | 5 | 5781 | 1156 |
| BMJ | 5 | 9835 | 1967 |
| Informa UK Limited | 5 | 8112 | 1622 |
| American Geophysical Union (AGU) | 4 | 8318 | 2080 |
| IOP Publishing | 4 | 5868 | 1467 |
| Scientific Societies | 4 | 4937 | 1234 |
| American Chemical Society (ACS) | 3 | 6761 | 2254 |
| Scientific Research Publishing, Inc. | 3 | 2133 | 711 |
| Ubiquity Press, Ltd. | 3 | 2581 | 860 |
| Academic Journals | 2 | 784 | 392 |
| American Physical Society (APS) | 2 | 4125 | 2062 |
| Cambridge University Press (CUP) | 2 | 3666 | 1833 |
| IEEE | 2 | 3244 | 1622 |
| Inter-Research Science Center | 2 | 3600 | 1800 |
| JMIR Publications Inc. | 2 | 4286 | 2143 |
| Microbiology Society | 2 | 2180 | 1090 |
| SAGE Publications | 2 | 2554 | 1277 |
| Taiwan Association for Aerosol Research | 2 | 1075 | 538 |
| University of California Press | 2 | 2349 | 1174 |
| American Medical Association (AMA) | 1 | 2729 | 2729 |
| American Society of Tropical Medicine and Hygiene | 1 | 2267 | 2267 |
| Crimson Publishers | 1 | 1046 | 1046 |
| CSIRO Publishing | 1 | 493 | 493 |
| EDP Sciences | 1 | 1800 | 1800 |
| ESG | 1 | 500 | 500 |
| Hindawi Publishing Corporation | 1 | 1408 | 1408 |
| Institution of Engineering and Technology (IET) | 1 | 2500 | 2500 |
| Magnolia Press | 1 | 97 | 97 |
| National Inquiry Services Center (NISC) | 1 | 2395 | 2395 |
| New Zealand Ecological Society | 1 | 184 | 184 |
| Portland Press Ltd. | 1 | 891 | 891 |
| PPHU Projack | 1 | 245 | 245 |
| Remedy Publications | 1 | 1548 | 1548 |
| The Electrochemical Society | 1 | 855 | 855 |
| Tsunami Society International | 1 | 324 | 324 |
| Verlag F. Berger und Söhne | 1 | 750 | 750 |
Fees paid per publisher (in EURO)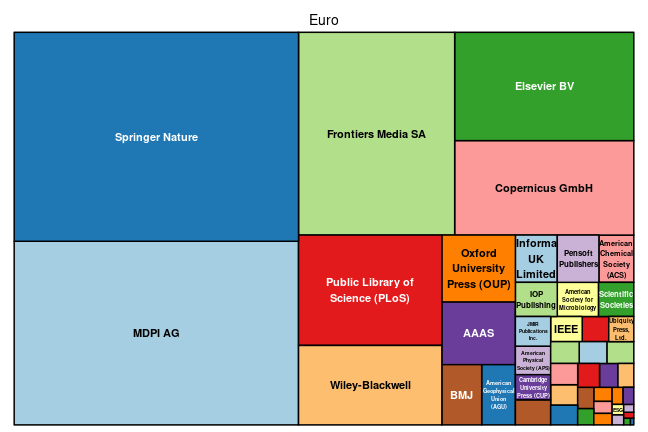 Average costs per publisher (in EURO)