New APC data harvested from Bielefeld University
15 Sep 2022
New APC data has been harvested from the institutional repository of Bielefeld University, which had shifted to APC data provision via OAI-PMH.
Bielefeld University Library is in charge of Bielefeld University's Open Access Publishing Fund, which received support by the DFG under its Open-Access Publishing Programme until 2019.
Contact person is Dirk Pieper.
Cost data
The new data covers publication fees for 156 articles. Total expenditure amounts to 309 957€ and the average fee is 1 987€.
|   | Articles | Fees paid in EURO | Mean Fee paid |
| --- | --- | --- | --- |
| MDPI AG | 50 | 89907 | 1798 |
| Frontiers Media SA | 38 | 82326 | 2166 |
| Springer Nature | 34 | 75637 | 2225 |
| Wiley-Blackwell | 9 | 18467 | 2052 |
| Public Library of Science (PLoS) | 6 | 10553 | 1759 |
| Cogitatio | 4 | 960 | 240 |
| Syncsci Publishing Pte., Ltd. | 3 | 1807 | 602 |
| American Association for the Advancement of Science (AAAS) | 2 | 7865 | 3932 |
| Association for Research in Vision and Ophthalmology (ARVO) | 1 | 1823 | 1823 |
| eLife Sciences Publications, Ltd | 1 | 3155 | 3155 |
| Elsevier BV | 1 | 2249 | 2249 |
| EMBO | 1 | 4284 | 4284 |
| Informa UK Limited | 1 | 1999 | 1999 |
| IOP Publishing | 1 | 1490 | 1490 |
| Life Science Alliance, LLC | 1 | 2313 | 2313 |
| Optica Publishing Group | 1 | 2079 | 2079 |
| Oxford University Press (OUP) | 1 | 2011 | 2011 |
| Royal Society of Chemistry (RSC) | 1 | 1032 | 1032 |
Overview
The overall APC data for Bielefeld now looks as follows:
Fees paid per publisher (in EURO)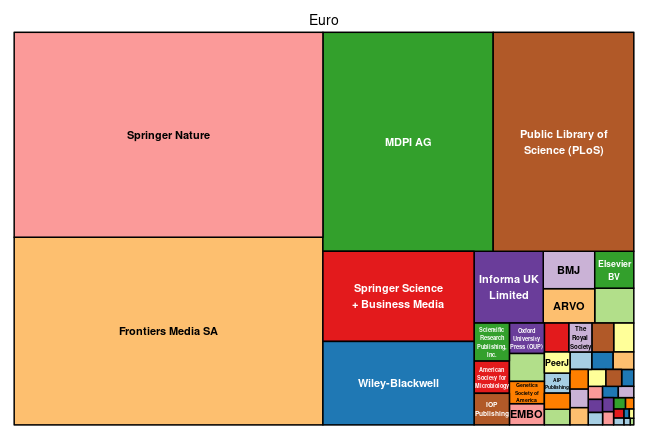 Average costs per year (in EURO)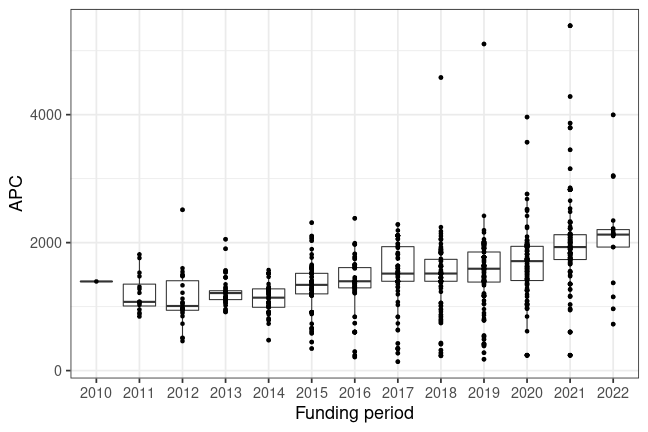 Average costs per publisher (in EURO)