DESY joins OpenAPC
01 Feb 2023
We welcome the Deutsches Elektronen-Synchrotron DESY as new contributing institution!
As part of the JOIN² network the DESY library integrates data on publication costs into their INVENIO repository, where OpenAPC can harvest the records via the OAI-PMH protocol. This has now been done for the first time, with OpenAPC ingesting a first data set.
Contact Person is Alexander Wagner.
Cost data
The initial data set covers publication fees for 337 articles published between 2015 and 2023. The total expenditure amounts to 648,889€ and the average fee is 1,925€.
|   | Articles | Fees paid in EURO | Mean Fee paid |
| --- | --- | --- | --- |
| Springer Nature | 66 | 170724 | 2587 |
| International Union of Crystallography (IUCr) | 48 | 60871 | 1268 |
| Optica Publishing Group | 45 | 81777 | 1817 |
| Optical Society of America (OSA) | 42 | 72449 | 1725 |
| IOP Publishing | 21 | 35259 | 1679 |
| AIP Publishing | 20 | 39649 | 1982 |
| MDPI AG | 19 | 24627 | 1296 |
| American Physical Society (APS) | 16 | 29880 | 1868 |
| American Astronomical Society | 10 | 14692 | 1469 |
| Elsevier BV | 8 | 16516 | 2064 |
| American Chemical Society (ACS) | 7 | 26320 | 3760 |
| Royal Society of Chemistry (RSC) | 6 | 9991 | 1665 |
| American Association for the Advancement of Science (AAAS) | 5 | 18775 | 3755 |
| Institute of Electrical & Electronics Engineers (IEEE) | 4 | 6298 | 1575 |
| EDP Sciences | 3 | 2600 | 867 |
| Frontiers Media SA | 3 | 7672 | 2558 |
| Informa UK Limited | 2 | 2928 | 1464 |
| Oxford University Press (OUP) | 2 | 4079 | 2040 |
| Wiley-Blackwell | 2 | 6714 | 3357 |
| Cambridge University Press (CUP) | 1 | 1257 | 1257 |
| eLife Sciences Publications, Ltd | 1 | 2588 | 2588 |
| Mineralogical Society of America | 1 | 3096 | 3096 |
| MyJove Corporation | 1 | 3715 | 3715 |
| Scientific Research Publishing, Inc. | 1 | 1069 | 1069 |
| The Royal Society | 1 | 1587 | 1587 |
| Walter de Gruyter GmbH | 1 | 2320 | 2320 |
| World Scientific Pub Co Pte Lt | 1 | 1435 | 1435 |
Overview
Fees paid per publisher (in EURO)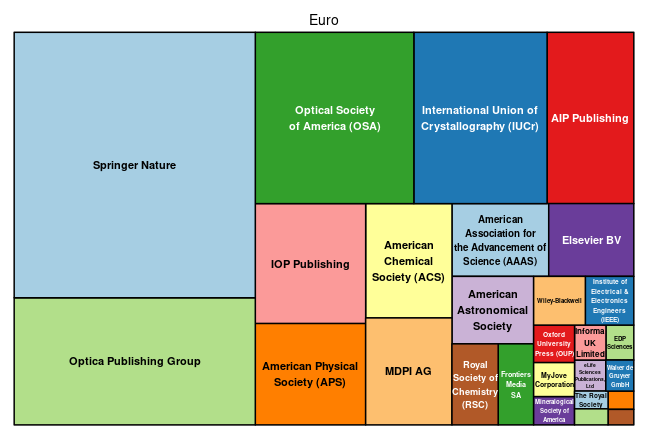 Average costs per year (in EURO)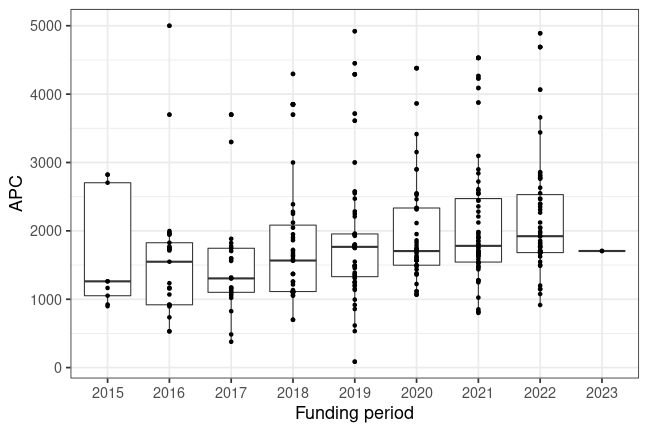 Average costs per publisher (in EURO)