Hamburg University of Technology reports its 2022 data
14 Mar 2023
Hamburg University of Technology (TUHH) has updated its APC expenditures, providing data for the 2022 period.
The University Library of Hamburg University of Technology is in charge of the University's Open Access Publishing Fund, which received support by the DFG under its Open-Access Publishing Programme until 2019.
Contact persons are Florian Hagen and Isabo Schick.
Cost data
The new dataset covers publication fees for 59 articles. Total expenditure amounts to 146 984€ and the average fee is 2 491€. The data also contained one BPC record which is not listed here.
|   | Articles | Fees paid in EURO | Mean Fee paid |
| --- | --- | --- | --- |
| MDPI AG | 24 | 48180 | 2008 |
| Elsevier BV | 6 | 16672 | 2779 |
| Frontiers Media SA | 6 | 14918 | 2486 |
| Springer Nature | 5 | 20810 | 4162 |
| Wiley-Blackwell | 5 | 10948 | 2190 |
| AIP Publishing | 2 | 7729 | 3864 |
| American Chemical Society (ACS) | 2 | 10505 | 5252 |
| American Physical Society (APS) | 2 | 6104 | 3052 |
| GITO mbH Verlag | 2 | 1166 | 583 |
| Association for Computing Machinery (ACM) | 1 | 1356 | 1356 |
| Copernicus GmbH | 1 | 1904 | 1904 |
| F1000 Research, Ltd. | 1 | 720 | 720 |
| Informa UK Limited | 1 | 2118 | 2118 |
| Ovid Technologies (Wolters Kluwer Health) | 1 | 3854 | 3854 |
Overview
With the recent contribution included, the overall APC data for the TUHH now looks as follows:
Fees paid per publisher (in EURO)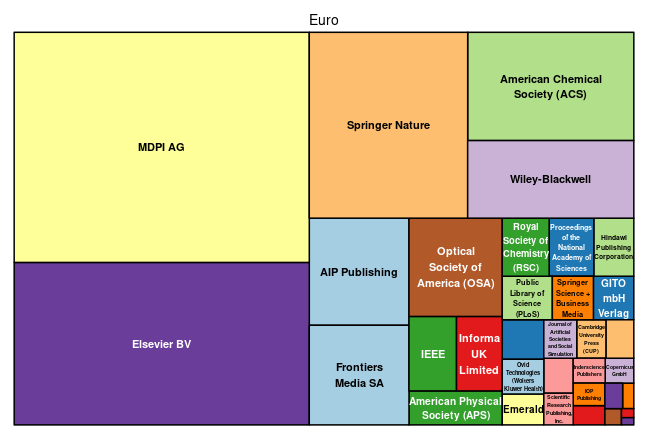 Average costs per year (in EURO)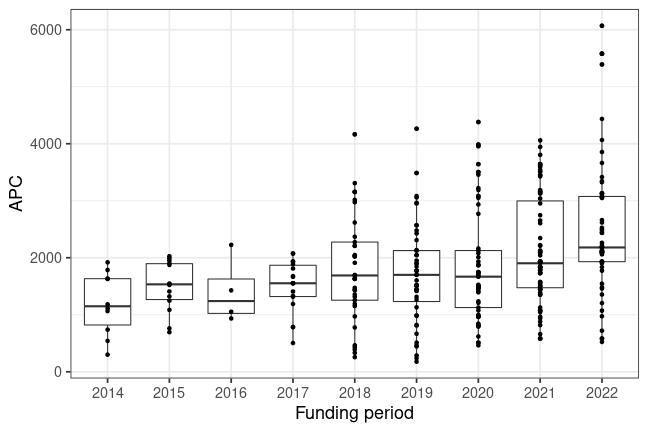 Average costs per publisher (in EURO)