University of Eastern Finland reports its 2022 APC expenditures
17 Mar 2023
The University of Eastern Finland has updated its APC expenditures, the latest contribution provides data for the 2022 period and some remaining articles for 2021.
The UEF Library collects data on institutional APC expenditures and kindly provides it to OpenAPC.
Contact Person is Juho Jussila.
Cost data
The new data covers publication fees for 189 articles. Total expenditure amounts to 359,425€ and the average fee is 1,902€.
The following table provides an overview of the new data:
|   | Articles | Fees paid in EURO | Mean Fee paid |
| --- | --- | --- | --- |
| MDPI AG | 47 | 78464 | 1669 |
| Springer Nature | 27 | 57819 | 2141 |
| Frontiers Media SA | 24 | 50055 | 2086 |
| Informa UK Limited | 19 | 47248 | 2487 |
| Elsevier BV | 9 | 19221 | 2136 |
| Copernicus GmbH | 8 | 13599 | 1700 |
| Public Library of Science (PLoS) | 6 | 10186 | 1698 |
| Optica Publishing Group | 5 | 9187 | 1837 |
| Wiley-Blackwell | 5 | 14590 | 2918 |
| BMJ | 2 | 4179 | 2089 |
| Canadian Science Publishing | 2 | 5304 | 2652 |
| Daugavpils University | 2 | 190 | 95 |
| European Respiratory Society (ERS) | 2 | 1490 | 745 |
| F1000 Research, Ltd. | 2 | 2630 | 1315 |
| Hindawi Publishing Corporation | 2 | 958 | 479 |
| IOP Publishing | 2 | 4795 | 2398 |
| JMIR Publications Inc. | 2 | 4593 | 2297 |
| SAGE Publications | 2 | 2572 | 1286 |
| SPIE-Intl Soc Optical Eng | 2 | 2616 | 1308 |
| AME Publishing Company | 1 | 1330 | 1330 |
| American Diabetes Association | 1 | 1539 | 1539 |
| American Medical Association (AMA) | 1 | 2652 | 2652 |
| American Physiological Society | 1 | 2652 | 2652 |
| American Society for Microbiology | 1 | 1126 | 1126 |
| BioResources | 1 | 1326 | 1326 |
| Brill | 1 | 2150 | 2150 |
| Computers, Materials and Continua (Tech Science Press) | 1 | 1159 | 1159 |
| EDP Sciences | 1 | 1600 | 1600 |
| Finnish Society of Forest Science | 1 | 800 | 800 |
| Georg Thieme Verlag KG | 1 | 2000 | 2000 |
| Intellect | 1 | 1553 | 1553 |
| IOS Press | 1 | 1500 | 1500 |
| Lexxion Verlag | 1 | 852 | 852 |
| Medknow | 1 | 582 | 582 |
| MIT Press - Journals | 1 | 1414 | 1414 |
| Oxford University Press (OUP) | 1 | 3200 | 3200 |
| Society for Imaging Science & Technology | 1 | 495 | 495 |
| Ubiquity Press, Ltd. | 1 | 1797 | 1797 |
Overview
With the recent contribution included, the overall APC data for the University of Eastern Finland now looks as follows:
Fees paid per publisher (in EURO)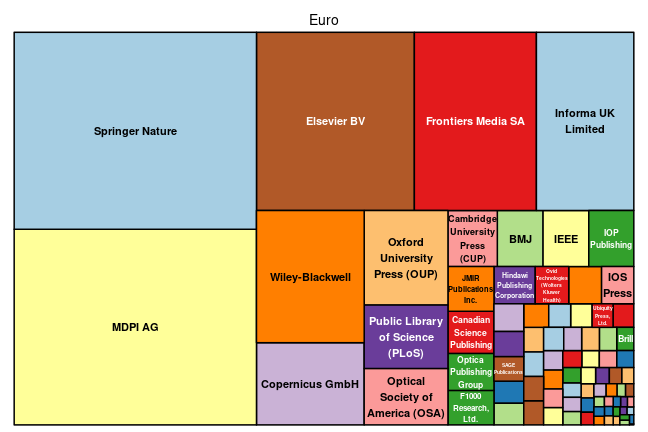 Average costs per year (in EURO)
Average costs per publisher (in EURO)