TU München reports its 2022 expenditures
23 Aug 2023
The Technische Universität München (TUM) has updated its expenditures, providing data on APCs and on articles published under the German DEAL agreements with Wiley and Springer Nature for the 2022 period.
The TUM University Library is in charge of the University's Open Access Publishing Fund, which received support by the DFG under its Open-Access Publishing Programme until 2019.
Contact person is Gregor Reiss.
Cost data
The new dataset covers publication fees for 525 articles. Total expenditure amounts to 1,120,563€ and the average fee is 2,134€. Please note that articles published in hybrid journals under the DEAL agreements are not included in this list, as they are aggregated in OpenAPC's transformative agreements data set.
The following table shows the payments the TUM University Library has made to publishers in 2022.
|   | Articles | Fees paid in EURO | Mean Fee paid |
| --- | --- | --- | --- |
| Springer Nature | 170 | 424030 | 2494 |
| MDPI AG | 151 | 302823 | 2005 |
| Frontiers Media SA | 84 | 163761 | 1950 |
| Wiley-Blackwell | 38 | 80008 | 2105 |
| Elsevier BV | 17 | 29381 | 1728 |
| Copernicus GmbH | 13 | 23668 | 1821 |
| Public Library of Science (PLoS) | 8 | 15013 | 1877 |
| Informa UK Limited | 7 | 11754 | 1679 |
| IEEE | 5 | 9621 | 1924 |
| Oxford University Press (OUP) | 5 | 12788 | 2558 |
| American Geophysical Union (AGU) | 4 | 6438 | 1609 |
| Institution of Engineering and Technology (IET) | 3 | 6664 | 2221 |
| American Physical Society (APS) | 2 | 3897 | 1949 |
| Cogitatio | 2 | 2380 | 1190 |
| EMBO | 2 | 8568 | 4284 |
| Optica Publishing Group | 2 | 3574 | 1787 |
| Walter de Gruyter GmbH | 2 | 2618 | 1309 |
| American Society for Microbiology | 1 | 1204 | 1204 |
| Association for Computing Machinery (ACM) | 1 | 1412 | 1412 |
| Colorado State University | 1 | 1888 | 1888 |
| eLife Sciences Publications, Ltd | 1 | 2315 | 2315 |
| Hindawi Publishing Corporation | 1 | 1371 | 1371 |
| SAGE Publications | 1 | 1983 | 1983 |
| Schloss Dagstuhl – Leibniz-Zentrum für Informatik | 1 | 107 | 107 |
| Sciedu Press | 1 | 680 | 680 |
| University of Uludag | 1 | 2082 | 2082 |
| Verein zur Forderung des Open Access Publizierens in den Quantenwissenschaften | 1 | 536 | 536 |
Overview
With the recent contribution included, the overall APC data for the TUM now looks as follows:
Fees paid per publisher (in EURO)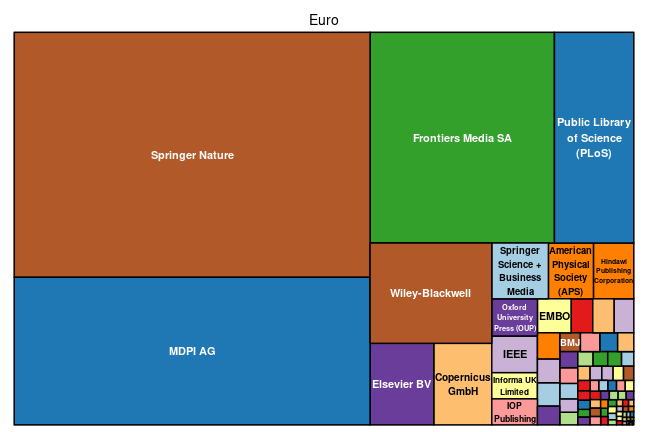 Average costs per year (in EURO)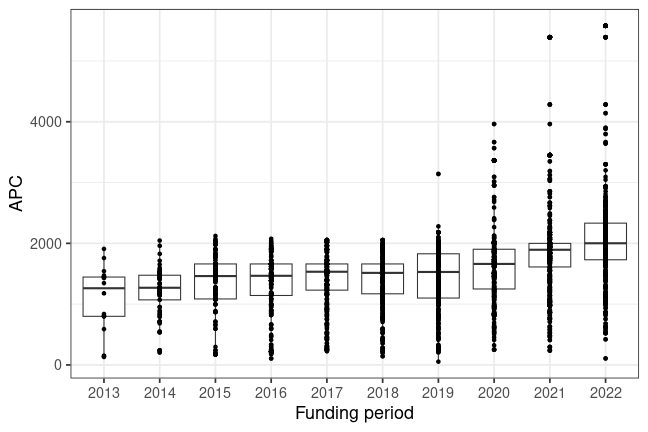 Average costs per publisher (in EURO)