University of Freiburg reports its 2022 APC and BPC expenditures
25 Aug 2023
The University of Freiburg has provided its APC and BPC expenditures for the 2022 period.
Freiburg University Library is in charge of the University's Open Access Publishing Fund, which receives support under the DFG's Open Access Publication Funding Programme.
Contact person is Claudia Mühl-Hermann.
Cost data
The new data set covers publication fees for 469 articles. Total expenditure amounts to 1,125,056€ and the average fee is 2,399€. In addition, University of Freiburg also provided BPC records for 2022 which are not listed here. They can be inspected in the according BPC treemap section.
The following table shows the payments Freiburg University Library has made to publishers in 2022.
|   | Articles | Fees paid in EURO | Mean Fee paid |
| --- | --- | --- | --- |
| Springer Nature | 136 | 365373 | 2687 |
| MDPI AG | 134 | 276458 | 2063 |
| Frontiers Media SA | 72 | 214791 | 2983 |
| Wiley-Blackwell | 29 | 66867 | 2306 |
| Elsevier BV | 14 | 27007 | 1929 |
| Public Library of Science (PLoS) | 14 | 29762 | 2126 |
| Copernicus GmbH | 13 | 22614 | 1740 |
| BMJ | 10 | 25737 | 2574 |
| IOP Publishing | 6 | 11320 | 1887 |
| Informa UK Limited | 5 | 11266 | 2253 |
| Optica Publishing Group | 5 | 12599 | 2520 |
| Oxford University Press (OUP) | 5 | 8165 | 1633 |
| JMIR Publications Inc. | 3 | 6523 | 2174 |
| American Physical Society (APS) | 2 | 6031 | 3015 |
| Association for Research in Vision and Ophthalmology (ARVO) | 2 | 4087 | 2043 |
| SAGE Publications | 2 | 1349 | 675 |
| American Society for Clinical Investigation | 1 | 4663 | 4663 |
| American Society for Microbiology | 1 | 2231 | 2231 |
| BioScientifica | 1 | 1785 | 1785 |
| Finnish Society of Forest Science | 1 | 952 | 952 |
| Georg Thieme Verlag KG | 1 | 2380 | 2380 |
| Gesellschaft für Erdkunde zu Berlin | 1 | 350 | 350 |
| Hindawi Publishing Corporation | 1 | 2802 | 2802 |
| IMR Press | 1 | 2488 | 2488 |
| Institution of Engineering and Technology (IET) | 1 | 1904 | 1904 |
| Ivyspring International Publisher | 1 | 2445 | 2445 |
| IWA Publishing | 1 | 2069 | 2069 |
| Medknow | 1 | 1951 | 1951 |
| Royal Society of Chemistry (RSC) | 1 | 1850 | 1850 |
| Scandinavian Journal of Work, Environment and Health | 1 | 2737 | 2737 |
| The Royal Society | 1 | 1714 | 1714 |
| Universidad de Navarra | 1 | 167 | 167 |
| Whioce Publishing Pte Ltd | 1 | 2620 | 2620 |
Overview
With the recent contribution included, the overall APC data for the University of Freiburg now looks as follows:
Fees paid per publisher (in EURO)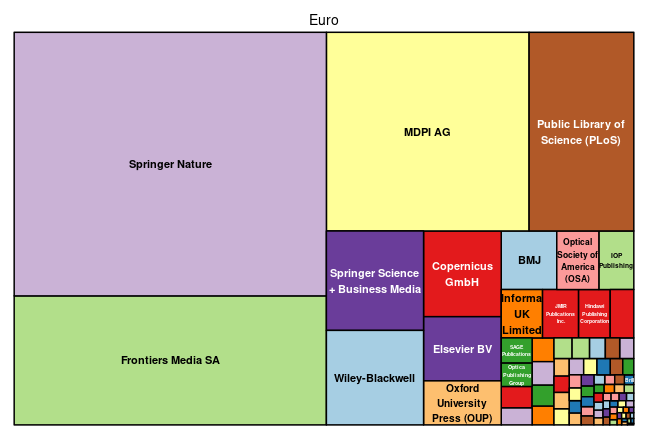 Average costs per year (in EURO)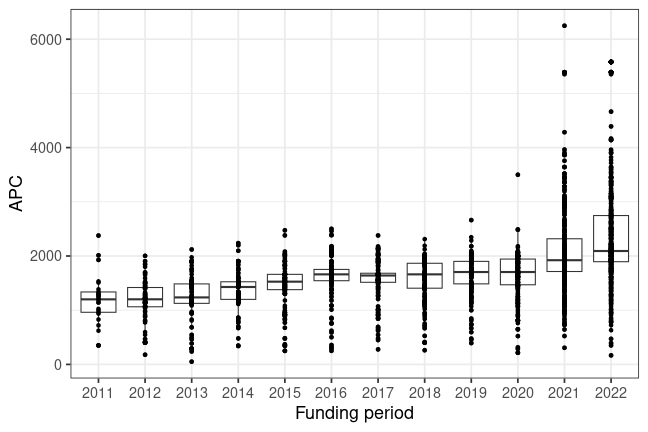 Average costs per publisher (in EURO)