Couperin.org provides additional APC data for 7 institutions
17 Nov 2023
The Couperin consortium collects data on APC expenditures from universities and other research institutions in France.
APC expenditures for 7 different institutions have now been made available to OpenAPC.
Contact Persons for Couperin are Valerie Larroque and Sandrine Malotaux.
Cost data
The new data set provided by Couperin covers publication fees for 512 articles, total expenditure amounts to 1,246,660€ and the average fee is 2,435€.
The data originates from the following institutions:
Université de Haute-Alsace
Université de Lorraine
Mines ParisTech
Université de Nantes
Institut Pasteur
Sorbonne Université
Université de Toulon
Overview
A detailed analysis of the contributed data sets provides the following overview:
Breakdown by publisher
|   | Articles | Fees paid in EURO | Mean Fee paid |
| --- | --- | --- | --- |
| MDPI AG | 86 | 150712 | 1752 |
| Elsevier BV | 85 | 215162 | 2531 |
| Springer Nature | 82 | 269913 | 3292 |
| Frontiers Media SA | 78 | 175868 | 2255 |
| Public Library of Science (PLoS) | 25 | 55594 | 2224 |
| Oxford University Press (OUP) | 22 | 62170 | 2826 |
| Wiley-Blackwell | 20 | 54369 | 2718 |
| American Society for Microbiology | 11 | 30857 | 2805 |
| Copernicus GmbH | 9 | 14393 | 1599 |
| AAAS | 8 | 30589 | 3824 |
| BMJ | 5 | 11354 | 2271 |
| Proceedings of the National Academy of Sciences | 5 | 18522 | 3704 |
| Royal Society of Chemistry (RSC) | 5 | 4669 | 934 |
| American Physical Society (APS) | 4 | 11098 | 2774 |
| eLife Sciences Publications, Ltd | 4 | 11445 | 2861 |
| IEEE | 4 | 6482 | 1620 |
| Informa UK Limited | 4 | 9127 | 2282 |
| American Geophysical Union (AGU) | 3 | 5646 | 1882 |
| American Society for Clinical Investigation | 3 | 12718 | 4239 |
| Cogitatio | 2 | 1900 | 950 |
| Cold Spring Harbor Laboratory Press | 2 | 7332 | 3666 |
| EMBO | 2 | 10000 | 5000 |
| IOP Publishing | 2 | 4444 | 2222 |
| Microbiology Society | 2 | 4682 | 2341 |
| Ovid Technologies (Wolters Kluwer Health) | 2 | 5133 | 2566 |
| Rockefeller University Press | 2 | 3642 | 1821 |
| The Company of Biologists | 2 | 7884 | 3942 |
| Walter de Gruyter GmbH | 2 | 1725 | 862 |
| AME Publishing Company | 1 | 1303 | 1303 |
| American Chemical Society (ACS) | 1 | 3172 | 3172 |
| American Thoracic Society | 1 | 2625 | 2625 |
| AVES YAYINCILIK A.Ş. | 1 | 487 | 487 |
| Cambridge University Press (CUP) | 1 | 2446 | 2446 |
| Cell Physiol Biochem Press GmbH and Co KG | 1 | 1500 | 1500 |
| Computers, Materials and Continua (Tech Science Press) | 1 | 3594 | 3594 |
| Crimson Publishers | 1 | 614 | 614 |
| Edizioni Minerva Medica | 1 | 1830 | 1830 |
| European Association of Geochemistry | 1 | 1250 | 1250 |
| F1000 Research, Ltd. | 1 | 1002 | 1002 |
| Firenze University Press | 1 | 700 | 700 |
| Galore Knowledge Publication Pvt. Ltd. | 1 | 52 | 52 |
| Geological Society of London | 1 | 5117 | 5117 |
| Impact Journals, LLC | 1 | 3459 | 3459 |
| Imprint Academic Ltd | 1 | 1500 | 1500 |
| International Global Health Society | 1 | 2284 | 2284 |
| JMIR Publications Inc. | 1 | 2306 | 2306 |
| Life Science Alliance, LLC | 1 | 2649 | 2649 |
| Magnolia Press | 1 | 182 | 182 |
| Medknow | 1 | 443 | 443 |
| Optica Publishing Group | 1 | 1927 | 1927 |
| PAGEPress Publications | 1 | 350 | 350 |
| Pensoft Publishers | 1 | 781 | 781 |
| Polish Academy of Sciences Chancellery | 1 | 560 | 560 |
| Research Desk Inc | 1 | 1063 | 1063 |
| S. Karger AG | 1 | 934 | 934 |
| Societas Europaea Herpetologica | 1 | 80 | 80 |
| Society for Neuroscience | 1 | 2110 | 2110 |
| The Royal Society | 1 | 2040 | 2040 |
| University of Bern | 1 | 870 | 870 |
Fees paid per publisher (in EURO)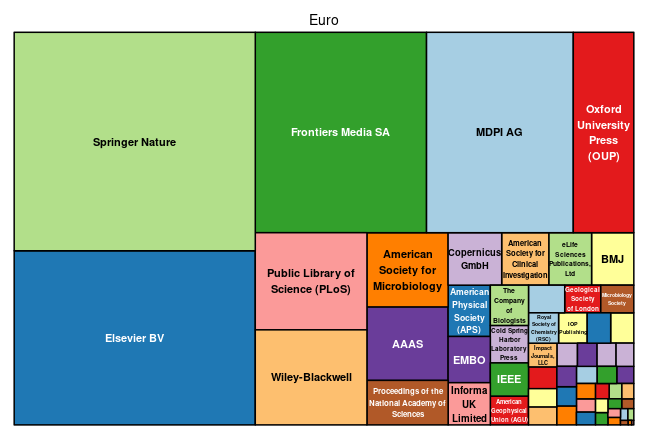 Average costs per publisher (in EURO)